New from Kerastase Soleil" Huile Celeste"
Saturday, April 09 | 2011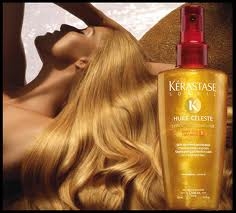 Huile Céleste
Incomparable brilliance and glamour for sun-exposed hair

Kérastase introduces Huile Celéste, a light-weight protective oil mist for all hair types that contains UVA and UVB filters and highly reflective gold micro-particles. A glamorous new sun care essential for intense protection and infinite shine.
Spray onto hair as a finishing step to add UV protection with brilliant shine. Reapply as needed.
Systéme Lumino-Défense

1. Protection - UVA and UVB filters help protect hair from the sun's harmful rays
2. Care - Hydrating macadamia oil prevents hair from becoming dry
3. Shine - Reflective micro-particles enhance shine
Matthew Morris
Matthew Morris Salon - Denver, CO
Huile Céleste is one of my new favorite essentials. The glamorous look with its shimmering golden glitter paired with an intoxicating aroma is a hit with everyone who gets their hands on it. For added care while in the sun, layer Huile Céleste on large sections of hair. Leave it down and beachy, toss it in a messy side knot, whatever you do, know your hair will be protected while looking glamorous and shiny.
Nina Dimachki
Figo salon - Detroit, MI
Salt & minerals from beach water combined with sand causes split ends... on a windy day, it's almost guaranteed. Layering Aqua Seal plus a veil of Huile Céleste on hair (wet or dry) will create an ultimate shield of protection eliminating the 'wind burn' effect on hair. This combination is awesome for sailing, golfing, and even just driving. These products are a staple in my beach bag.
William Soriano
W's Salon - San Jose, CA
To keep your hair gorgeous during the hot summer season I recommend Huile Céleste. With its light texture and UVA and UVB filters, its a must-have for sun worshippers or for those who have active lifestyles.
Stylist Reviews Courtesy of kerastase-usa.com