KERASTASE SOLEIL
Wednesday, April 28 | 2010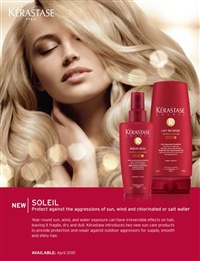 The much anticipated KERASTASE SOLEIL is now available.

Protect against the aggressions of sun,wind and chlorinated or salt water.

Year round sun,wind and water exposure can have irreversible effects on hair leaving it fragile, dry and dull. KERASTASE introduces two new sun care products to provide protection and repair against outdoor aggressions for supple smooth and shiny hair.